Henri Nyakarundi is the founder of ARED, a solar kiosk platform used as a product distribution network in rural and urban areas in East Africa.
One thing I new was the lack of electricity in Rwanda was a big problem.  Sixty percent of population have a cellphone but less than 15% have access to electricity.
When he started ARED, he'd developed a mobile phone charging kiosk technology:
Two years in, we had 25 kiosks, mostly in Kigali, and we were working on bringing in investors. What our first investor wanted to know was how we were going to expand outside Rwanda.
As entrepreneurs, we hear titles like MBA and we think they must have the answers that we don't have.
I found a program that offered advice from MBAs at a prestigious school in London. So I went to them for advice on our expansion question. One of their ideas was to franchise.
Henri grew up in Burundi, another small country that shares a border with Rwanda. He left for the U.S. to study computer science at Georgia State University, and had started a business there.
At one point, he'd looked into franchising, which is popular among fast-food restaurants. It's a way for a business to spread, by working with local entrepreneurs, removing some of their work and risk.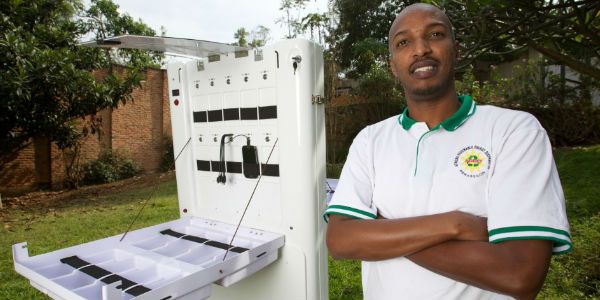 When restaurants franchise, each restaurant is owned and operated by a local entrepreneur. The head office, or the franchiser, gives each restaurant what they need to run their restaurant, a known brand, advertising, detailed instructions on each procedure, all the exactly-designed supplies -- and they take a small percentage of the profit in exchange.
Their suggestion was to franchise by setting up home bases in each country.  But I knew right away that would be too expensive.
In Europe or in the US, a franchiser can operate in other countries with the same legal entity. In Africa, you have to register a new company, find new accountants, lawyers, set up new bank accounts. Each country has a different system and none of them are fast.
As they progressed, they made other mistakes like assuming there are franchise laws in Rwanda. Two weeks in, I knew they wouldn't find the solution. I told them I wouldn't need them.
All international programs are financed by international funds. Their consultants are all international. I raised this issue with them, because what I've learned is, as knowledgeable as they are, they're not familiar with the African ecosystem.
Henri was left to figure it out for himself, through the default approach of every entrepreneur -- persistent trial and error.
Another two years later, he was steadily but slowly growing his network of kiosks, and consistently improved his product. He approached MTN, one of the big regional phone companies, for their mobile money platform. He wanted to add mobile money services so the agents who ran their kiosks would have another revenue stream.
The head of MTN's Mobile Money division was in the meeting, and casually took interest in Henri's kiosk network. They got into a conversation about MTN's distribution model.
I had always thought that MTN owned all their distribution, their whole value chain. He explained that they used to, but it was too expensive and too complicated to run it.
So they hired what they called Super-Dealers but paid them on commission.  They decentralised it. They gave them quotas, and they had to qualify by putting down a hefty sum of money. They called it the Aggregator Model.
That was enough to point Henri in the right direction.
I started researching and found articles about it. Over the next year, we tested this model with our own agents. And when we moved to Uganda, we were ready. Whereas before we had done all our own recruiting, training and branding, in Uganda we worked with companies who do that.
We realised that trying to do everything isn't sustainable. Building our own distribution network was expensive, and meanwhile each region has companies with their own established brands and networks. What they really wanted was our technology.
So that's what we provide - we're a technology company now.
Henri had started with the idea of developing kiosks that he could make and distribute. In other parts of the world, a franchise model is a good approach for this.
But the fragmentation and differences of each African country make expansion too expensive and too time consuming, which makes that a bad investment, too slow and risky to pay off.
We no longer just provide kiosks. We upgrade other kiosks.  There are over a million active kiosks in Africa and a lot of them are just boxes with no technology.  One of the big challenges companies have is kiosks is, how do you monitor all of them when they're in remote areas?
We retrofit them to make them smart and connected. We've learned the ecosystem and rather than building our own distribution networks, we tap into the ones that already exist.
On their old model, ARED kept growing slowly but steadily - to over a hundred kiosks in Rwanda.
In Uganda, they opened with their new model, and started with a pilot for retrofitting 2,000 kiosks.
For those London MBAs who'd learned about the power of franchising through case studies and text books, it's hard to realise why it's a was bad approach in East Africa.  For Henri, a local entrepreneur looking for help from international experts, it was simply a case that their educational content wasn't relevant for his situation.
The educator, the learner and the domain expert are provisory roles
Jorn Llessegen is the founder of Meltwater, a news and social media analytics company that grew from it's start in Norway to hundreds of millions in revenues, global offices and 1,000 employees in its first 7 years.
He attributes this success to choosing the right people:
We look for inspiring people. By that, I mean people who are ambitious, talented, driven and positive. Also, people that are fun to hang around and also have a good heart, good values, good integrity.

More specifically, what we are looking for are
people that, at a very early stage, have somehow been able to break through.

We hired a classically trained pianist, and people that are exceptional in sport. We have national or international champions in swimming, cycling, running, skiing. We have three Olympians in the company, a world champion fly fisher. One time I hired a Chinese girl that was number three in the world in Street Fighter, the video game.

We believe that if you show you can be exceptional at an early age, that shows that you can be exceptional one way or another,  that says something about who you are. Whatever you put your mind to, you will probably be very successful.
Jorn doesn't see talent as a specific skill, but as a general attitude.
With that in mind, when Meltwater had just passed it's first few million in revenue, Jorn made a big investment in talent and committed half the company's profits to a school for entrepreneurship in Ghana.
It was relatively modest for an accredited university, two buildings separated by a pedestrian bridge over a small river in Accra's upmarket East Legon neighbourhood. One building was the school, which offered a Masters' Degree through a practical course involving learning the latest IT skills and repeatedly launching businesses.  The final project was a real business, and the final presentation was a real investor pitch. Jorn offered their first $50,000 USD investment, and two years use of the other building, the MEST Incubator.
I was invited as a guest speaker and judge to help decide who would be funded.
I also had another goal there.  With a small interview kit - video camera, lapel mics, portable lights and tripods - I stayed an extra week, interviewing the startup founders in the MEST Incubator so they could share their experience.  We converted this into an online course and saw almost 1,000 people sign up, so I continued travelling around the continent for a few months, crossing over to East Africa and conducting around 60 interviews.
We learned about a whole range of African-specific topics in entrepreneurship.
"Power distance" was a particular issue in West Africa's more hierarchical culture, where it's difficult for young people to approach seniors like investors or company management.
"When you want to make a sale to big church, and you want to reach the Head Pastor. But you have to start at the administrator, and you have to go through A, B, C, D before you get to the top. You have to make concrete efforts to break that or you won't get your business anywhere. You have to overlook how you feel and go up to him and say, 'Oga! How are you? My name is Nana and I have something good for you.'"
All over Africa, there is a prevalent distrust towards small companies. Some partnered with established telecom brands. Others established themselves as authorities by volunteering on public service broadcasts with radio stations.
Another common challenge was building distribution networks in rural areas, which are highly populated but hard to reach online.  Some would hire locally-trusted promoters, and augment their social status with high-end selling tools like tablets. Others constantly hired and fired large groups of students.
I reached out to Samson, a Kenyan entrepreneur that had just raised a big investment round for a payment technology he'd patented. He revealed his research about how they'd navigated Africa's complex patenting environment. Karl Heinz Tondo had been interested in learning this, so joined the interview.  Samson started asking Karl about his business to see how he could help, and realised Karl had worked out a manufacturing approach much better than Samson's. The interview roles switched, and Karl started explaining his manufacturing experience to Samson.
The online course kept growing, surpassing 10,000 students and becoming one of the largest online entrepreneurship courses on the continent.
It turns out the best content in the world is rarely the best content in context.